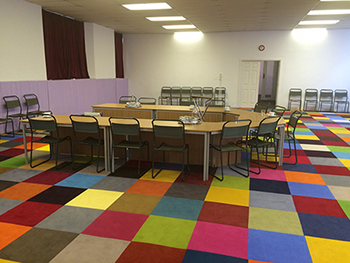 Our first floor, town center venue attracts a wide variety of groups and business and we are always interested in attracting new groups, companies, associations and clubs to hire this excellent location.
Our main hall is one of the largest available in the area measuring 16m x 10m and like all our rooms is available seven days a week from 8am to 10pm.
Room 2 is booked on a permanent basis leaving the main hall and rooms 1 and 3 available for casual lets along with our two level suite. Room 1 measures 4.5 x 2.3m and is ideal for smaller groups, room 3 measures 3.2 x 3.2m been recently redecorated and perfect for wherever your imagination takes you. Our duplex (two level) suite measures 4m x 4.4m approx on the lower level and 3.7m x 3.4m on the upper, benefits from its own self contained wc and captures an amazing amount of light through its cathedral like windows. The suite is ideal for anybody looking for a short or long term lease.
In addition to our space hire provision we can also link our customers on our website, Facebook or Twitter page, and all customers receive free use of our hi speed Wi-Fi connection. We have also recently added a catering option with the provision of soup and sandwiches at lunchtime for customers using us for half or full days alongside our tea, coffee and biscuits option. Why not ask for a quote when checking availabilty, it costs nothing.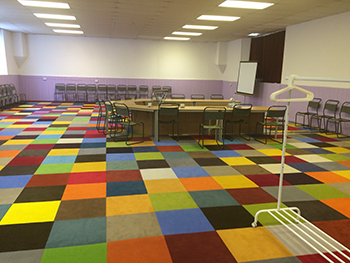 All our rooms an be leased on a long term, short term, or casual basis, based on a minimum one hour booking with all enquiries made in the first instance to admin@oldauctionrooms.co.uk or to John on 07887 568084.
If you have used the 'Old Auction Rooms' in the past please review us on Facebook.
Our Rooms are suitable for
Business Meetings
Hot Desking
Seminars
New Product Launches
Club AGM's
Committee Meetings
Holistic Therapies
Massage
Reiki
Reflexology
Yoga
Pilate's
Dance Classes
Kids Parties
Record Fayres
Car Boot Sales
Auctions
Martial Arts Classes
Fitness Classes
Music Tuition
Band Rehearsals
Performing Arts Groups
Staff Training
Antique Fairs
Craft Fayres
Interview Rooms
Meeting Rooms